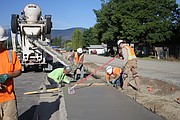 BONNERS FERRY – The town received a $ 200,000 grant from the Local Highways Technical Assistance Council to transform Garden Lane from a dead end to a through street, but found itself short of funds to fully fund construction of the road.
The Boundary County School District stepped in to make up the difference.
The project bid at $ 269,000, or $ 69,000 over budget. The city was able to recoup $ 30,000 from surplus funds in the state of Idaho that were dispersed earlier this year, while keeping part of the project in-house to keep costs down. This still left them $ 30,000 less than they needed to complete the project.
That's when school district officials came on the scene. The school district owns the western part of Garden Lane. So the board met on July 26 and voted to donate the remainder of the money from a safe and drug-free schools grant and general funds. The grant is designed to create safe walking and driving routes for local students as part of an ongoing plan to increase safety.
Superintendent Jan Bayer said she felt the funds, which were intended to help build a 6-foot-wide pedestrian sidewalk, were a perfect fit for the project.
Garden Lane previously ran from Alderson Lane to Garden Court, ending about 300 feet from Fry Street. When complete, Garden Lane will run alongside the high school soccer field and connect Fry Street to Alderson Lane.
According to city administrator Lisa Ailport, the lack of through streets in Bonners Ferry creates heavy traffic on the US 95, especially around middle and high schools during peak hours of the school day. The city and school district hope turning Garden Lane into a through street will help reduce traffic and ease some of the pressure on the freeway.
Ailport wanted to do something to recognize the school district for its contribution and found a way to do it that will last for years by marking the concrete with badger prints.
Bayer brought in the Kootenai Wildlife Refuge, which created molds of real badger feet in honor of the high school mascot, which the town used to make footprints on the sidewalk along Garden Lane. She made sure to highlight her appreciation for the shelter and their help with the project.
Workers were careful to create a path of paw prints through the wet cement as Ailport, Bayer and district business manager Cal Bateman watched.
Ailport and Bayer underscored their appreciation for the working relationship between the city and the school district, saying they "look forward to this continuing relationship."
Anyone wishing to see the Badger's Paws can find them printed on the sidewalk outside LDS Church along Garden Lane.